Go Paperless!
Paper is the root of an ineffcient office. Paper stock, printers, photocopiers, printer maintenance, photocopier maintenance, ink, toner, express mail, storage boxes, and office storage space consume your precious business resources. Fortunately, you can make significant cuts to these costs and streamline routine office processing at the same time.
eDocPro add-on menus for Adobe® Acrobat empowers you with tools to organize, process, and distribute important business documents that might otherwise be scattered around your offices. With eDocPro, you get instant access and control over your important business documents. Scan incoming paper, import files from virtually any source, and organize in a central location. Then control distribution of those digital documents in standard formats for shared reviews and commenting.
Capture
eDocPro add-on desktop technologies offer a simplified document management solution, delivering immediate value and increasing organizational efficiency and effectiveness. You'll organize your digital documents on a new business document-network file system that's restricted to eliminate the casual clutter that often ends up on unrestricted server networks. Your shared document management file system will enable collaboration while granting each user specific access to files and workflow functions.
eDocPro gives users direct access to their information electronically. Users can share that information along with comments and they can even complete routine processing of documents in a workflow. eDocPro is an investment that delivers productivity tools to each individual staff member's desktop.
eDocPro enables these features as an add-on to the Adobe Acrobat application program. You can convert virtually any document, from any source, to an Adobe PDF format.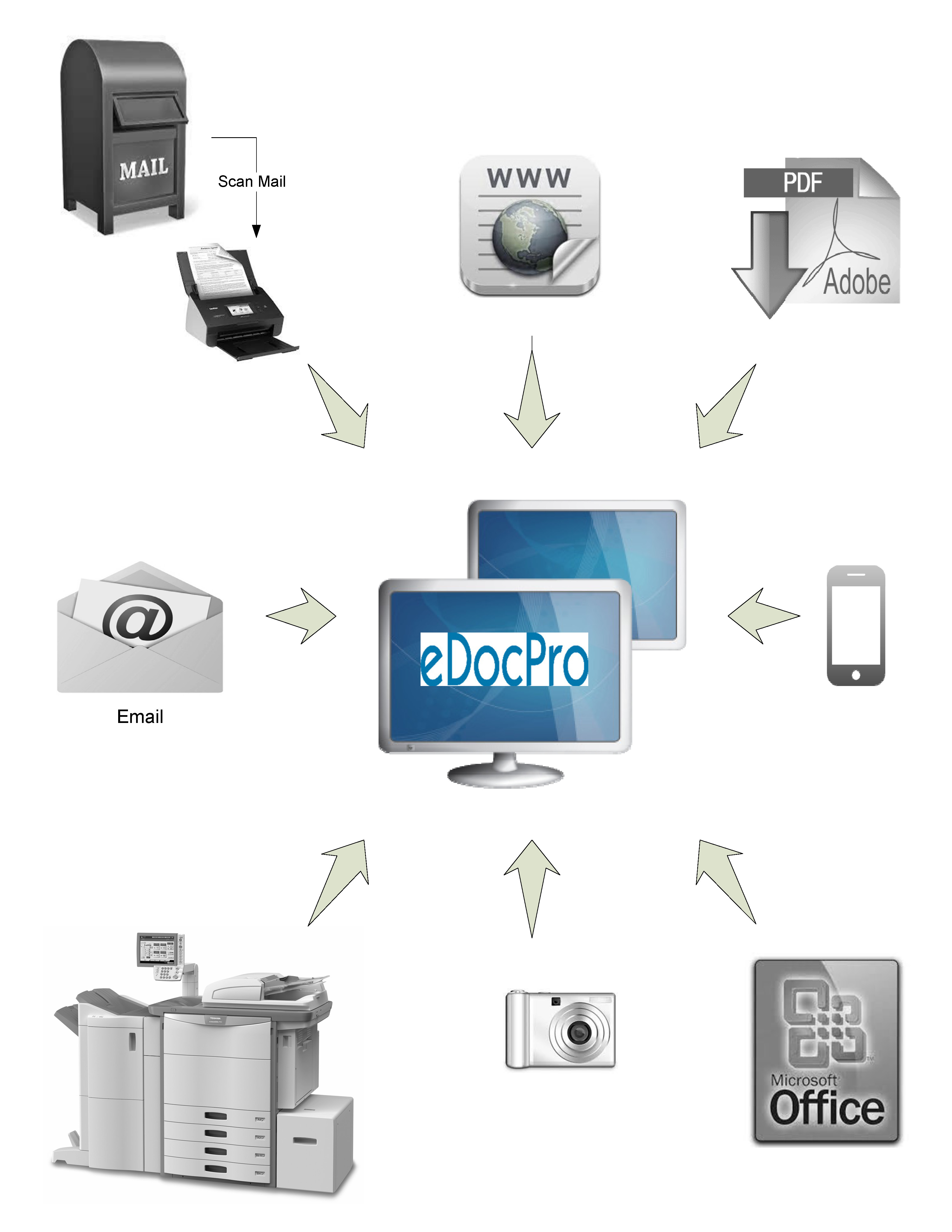 Retrieve
Computers and other electronic devices are already creating the majority of your important business records today. Maintainence of your electronic records is critical to comply with fiduciary responsibilities and to properly manage business risk. There are important management principles that must be applied when archiving electronic records.
The technical nature of electronic records causes us to give some additional consideration for their safekeeping. While electronic records are under constant threat from several factors, one thats often overlooked is technological obsolescence. The rapid advancement of computer and software technology over the years could render your electronic business archive records inaccessible.
However, if you convert your business documents to the Adobe PDF file format, you'll know that your records will always be accessible. That's because the PDF file format is now an open standard. An open-standard is defined as publicly available and has various rights to use associated with it. In July, 2008, Adobe published a Public Patent License granting royalty-free rights for all patents owned by Adobe that are necessary to make, use, sell and distribute PDF compliant implementations.
With the granting of PDF rights to the public, the PDF file format met the final requirements to be published as 'best practices' standard for business and so was adopted by the International Organization of Standards ("ISO"). ISO 32000 specifies a digital form for representing electronic documents to enable users to exchange and view electronic documents independent of the environment in which they were created or the environment in which they are viewed or printed.
Easily convert your files to conform with ISO 32000 standards, including PDF/A for archiving, PDF/E for engineering, PDF/X for print production, and now PDF/VT for variable data and transactional printing.
Adobe® is a trademark of Adobe Systems Inc. eDocPro is not affiliated with or endorsed by Adobe Systems Inc. or its trademark owners